Your Guide To Cuts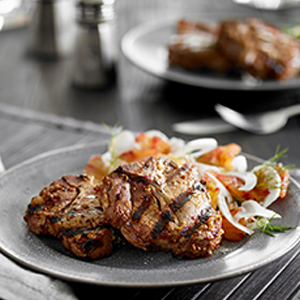 Opal Valley delivers the highest quality without compromising the delicious sweet, yet mild taste of pasture fed lamb. Our lambs get to roam freely in wide-open stunning Aussie pastures where clover and rye grass are grown, just the way it should be. Clean, natural flavors with unbeatable tenderness is what you can expect from Opal Valley Australian Lamb. Want to learn more about our different cuts?
Here's your guide to our lamb cuts:
Leg of Lamb
Our good old classic leg of lamb is the most versatile cut of the bunch. Grill it to perfection, give it that butterfly effect or coast while you roast.  For a real treat, try boneless leg or kebobs on the Barbie.  You can thank us later. Lamb101: Leg of lamb is already a very tender and lean meat, so make sure not to overcook it!
Lamb Loin
When it comes to loin cuts, dry heat methods like pan frying, grilling or broiling work best. A little seasoning goes along way with this meat, like cumin, garlic and rosemary. Your weeknight dinners are served. Now quit loin around and get to know this simply delicious cut of lamb!
Rack of Lamb
Want a simple prep with an impressive look your mates will be jealous of? The rack of lamb is a great option for entertaining because it has a fine dining restaurant quality look and delicious taste, but is also simple enough to make at home, and you can't beat simple.  A classic prep calls for a lightly herbed bread crumb crust to compliment the flavor of the rack. Lamb101: The term "frenched" refers to the removal of fat and rib meat which exposes 3-4 inches of the bone; a common cut offering ease of handling and stunning presentation.
Lamb Shoulder
You can rest assured that the shoulder is the most economical of the cuts. This cut is packed with flavor, which means it takes a little longer to cook to really get it tenderized. It's perfect for a cozy night in while you cook up some slow cooked stew or roast. Lamb101: Taking the time to let lamb rest after cooking will ensure it is moist, tender and juicy.
Lamb Shank
We know you want that "melt off the bone" kind of dinner.  This is why the shank is the way to go when you're looking for that wow factor for your next meal.  Lean on fat but big on flavor, this meaty shank is ideal for braising and slow cooking.
Ground and Value Added Lamb
Your new ground glory to Barbie heaven! Use this meat in burgers, sausages, sliders or in appetizers and small plates!  It's also a healthy leaner substitute for ground beef and other ground meats. When you're looking for sweet and mild flavors for your next shindig, ground Aussie Opal Valley lamb will be calling your name.