4 Ways to Serve Leg of Lamb for The Holidays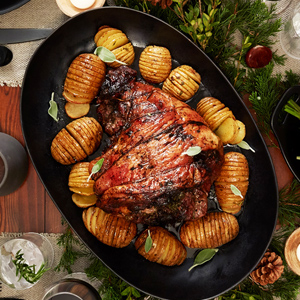 4 Ways to Serve Leg of Lamb for The Holidays
The holiday season is here, and we're going to bring you some lamb cheer!
When was the last time you really stepped out of holiday tradition and created a delightful masterpiece on your table that guests were in awe of? Leave it to tender and flavorful Opal Valley Australian Premium Lamb to take center stage at your next holiday party and trust us when we say your guests will thank you. Sounds like holiday fare to us!
This holiday season, serve up our pasture-raised and free-range lamb, simply roasted with the bone or boneless. Whatever your preference is, we've got the right recipe for your dinner table to ensure all is merry and bright this holiday season.
Cherry and Herbed Filled Leg of Lamb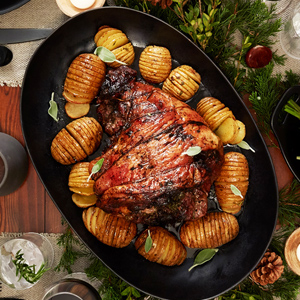 Delight your holiday guests with the delicious flavors of our Cherry and Herb Filled Leg of Lamb. Serve with tasty Mini Hasselback Potatoes!
Lamb Spiedini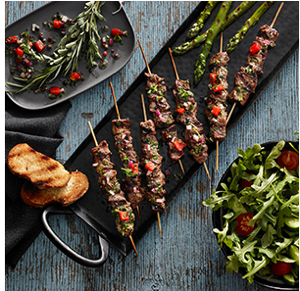 A delicious way to showcase your grilling skills with little effort in the kitchen. Simply grilled and basted with a fresh herb vinaigrette. Serve as an appetizer or as part of a larger dinner.
Aussie Roast Lamb Leg with Plum and Macadamia Nut Stuffing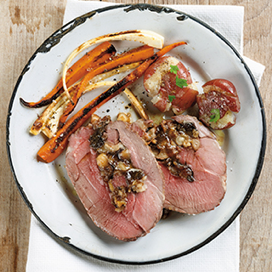 Move over turkey! We've taken a delicious cut of lamb and turned it into an epic holiday meal "stuffed" with nothing but goodness. Can you blame us for adding this item to the holiday menu?
Brazilian Style Butterflied Leg of Lamb with Chimichurri Sauce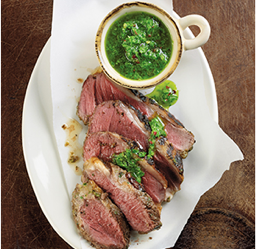 Looking for a festive and delicious lamb recipe? Try out this tasty recipe for Brazilian Style Butterflied Leg of Lamb with Chimichurri! Can you say stunning?