FEAST ON DELICIOUS THANKSGIVING EATS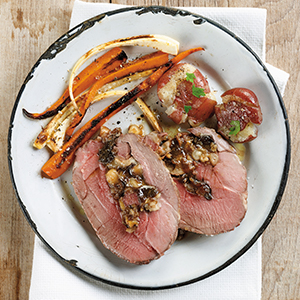 A crisp cool breeze, colorful leaves, can we all agree that the beauty of autumn is always sure to please? With autumn in full swing, it seems summer is just a fond memory now. We all know that with this new season comes many amazing things to look forward to. This is a time of comfort, food, family and celebrations! Did we mention food and more food?
Thanksgiving is here and we're ready to start bringing you some festive cheer with some delicious crowd-pleasing lamb recipes.
If Thanksgiving has left you with turkey fatigue, not too worry, we've got you covered. Why not try something easy, amazingly delicious and a little outside tradition? Your guests will thank you for it and you'll absolutely love the flavors of your unconventional feast.
Filipino-Style Lamb Shank Stew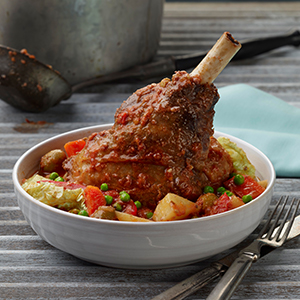 Cook up a stew for your crew this season with this version of the festive Filipino caldereta! Often made with goat meat, Opal Valley Australian Lamb is substituted here, along with the traditional additions of liver spread, tomatoes and olives. It's often served with a side of steamed white rice.
Aussie Roast Lamb Leg With Plum And Macadamia Nut Stuffing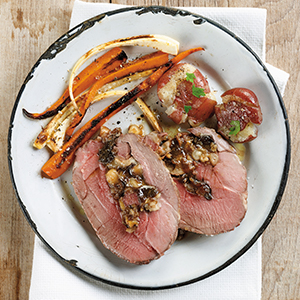 Not the kind of turkey stuffing you're use to! This delicious Roast Lamb Leg with Plum and Macadamia Nut Stuffing will tantalize everyone's tasted buds around the dinner table. Serve it with a side of carrots or your favorite veggies and get ready to feast on this crowd-pleaser, soon to be your go-to holiday entrée.
Chops With Walnut And Caper Couscous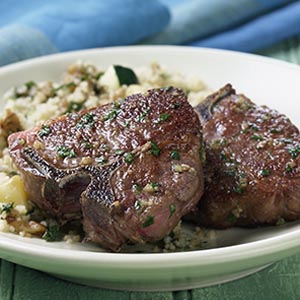 Looking for a delicious natural lamb recipe to add to your Thanksgiving table? Try out this simple, yet tasty recipe for Australian Lamb Loin Chops with Zucchini, Walnut and Caper Couscous! Prepare the couscous the day before, cover and refrigerate. When ready, bring to room temperature, then toss with the herb-nut mixture just before serving. This dish is also great with the larger grained "Pearl" couscous – just boil in stock or water 10-12 minutes or until tender then proceed as directed.