4 recipes to add to your summer menu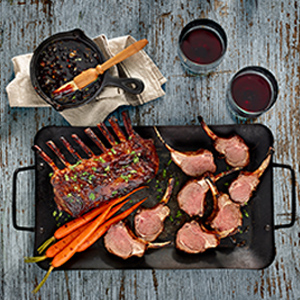 The sun is shining and BBQ season is in full swing! It's time to elevate your summer menu to new heights with 4 delicious Opal Valley Premium Lamb recipes you can enjoy all summer long. From chops to racks and everything between! Feast your eyes on what we've been cooking up for the summer.
Moroccan-Style BBQ Grilled Rack of Lamb
Want to rack up the likes at your next BBQ? Then this is the recipe you want. The rich and tender meat of a grilled rack of lamb is adorned with this sweet, spicy and sticky Moroccan flavored BBQ sauce. Serve with grilled seasonal vegetables.
Prep: 15 mins   Cook: 55 mins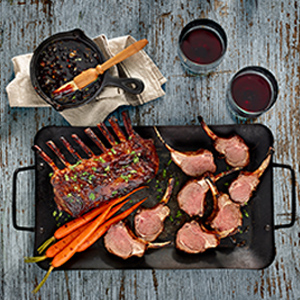 Lamb Spiedini
A delicious way to showcase your grilling skills with little effort in the kitchen. Simply grilled and basted with a fresh herb vinaigrette. Serve as an appetizer or as part of a larger dinner. Serve with a green salad, grilled asparagus and toasted baguette slices.
Prep: 25 mins  Cook: 10 mins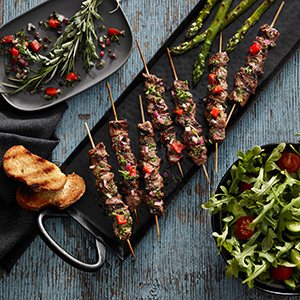 Lamb Kofta Skewer Appetizers
Tender and flavorful mini kofta skewers served atop cocktail glasses filled with tzatziki, mini cucumber spears and fresh lemon zest. Yum! For something extra special serve skewers as a topper for your Caesar/Bloody Mary cocktail! Dining el fresco has never been this tasty or this easy.
Prep: 10 mins  Cook: 10 mins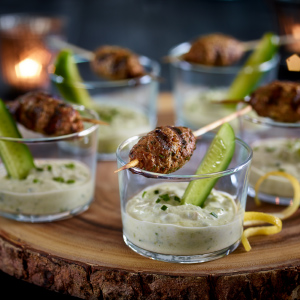 Loin Chops with Fresh Fennel and Orange Salad
The anise accent of fennel, fresh mint and the tangy sweetness or orange comes together in this vibrant salad – a perfect addition to meaty, grilled lamb loin chops. It doesn't get any more summer than this.
Prep: 20 mins  Cook: 40 mins